Just to make things perfectly clear, I never hated Victoria Beckham aka Posh Spice. I just thought, like most of humanity, that she's sort of...well...not human. Robotic, possibly with a slight chance of cyborg. Don't get me wrong-I'm inspired by strong women. However it is nice to see even the most business minded of ladies crack a smile once in a while. With Victoria I don't think it's even a matter of being mad. I think she refuses to smile because it develops wrinkles. We always see her looking so stone cold serious that it's easy to forget that there is in fact a 23.5% chance that she is a bipedal primate like the rest of us. Which is why these rare shots of Victoria Beckham smiling are so gosh darn newsworthy.
So what's with the grin you ask? Gucci gave her free clothes? Prada started making a size sextuple zero? Nope. The thing making Posh do the unthinkable is Posh doing the unthinkable: Giving back to the less fortunate.
The mother of three took her oldest son, 10-year-old Brooklyn, with her on a two day charity trip to Kentucky in honor of the Save the Children foundation. Among the activities they participated in during their trip were teaching the kids how to play soccer, reading to toddlers and providing literacy and nutrition tools to parents on home visits. During their visit the Beckhams visited two schools, Manchester Elementary and Big Creek Elementary, handing out valuable items such as books, shoes and backpacks. Clay County, the area in which both schools reside, is one of the poorest counties in America, with a childhood poverty rate of 47.8 per cent and an average household income of $19,728.
When asked about her involvment with Save the Children and why it is so important to her, Beckham answered "What I saw in Clay County was the hope and promise inherent in every child. That's why we have to make sure every single child has a fair and equal start in life. Seeing Save the Children's innovative programmes in action, I know that we can begin to reverse the childhood poverty crisis. I'm pleased Brooklyn is learning that, by helping and joining other children, he can play a role in making his generation the greatest yet."
Now normally I would be a total cynical Sally, but I honestly believe that these smiles are sincere and that Posh genuinely enjoyed spending time with these children. I especially love how she's teaching these kids how to do the Hollywood shuffle: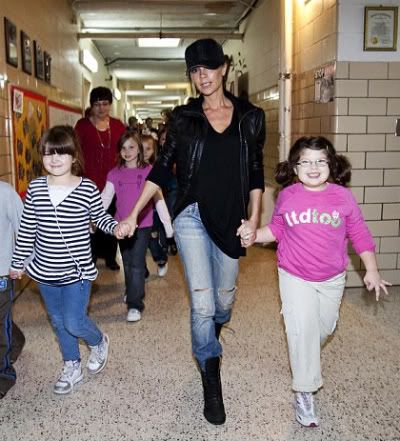 Look at them struttin' down the halls like they were on a runway in Milan! I think I found that picture particularly cute because she's teaching them what she knows. I mean, let's say that Michael Jordan agreed to help you out with charity work. Would you have him teaching the kids how to macrame? Heck no! You'd ask him to shoot a few hoops because that's what he does best. What Posh does best is pose, strut, suck in her cheekbones and not eat. Teaching the kids three outta four ain't too bad!
Anyway here are some more adorable pics of Posh doing good and junk. Five big brownie points if you can spot her in the class photo (5th picture). She's basically the same size as the eight year olds. No lie.