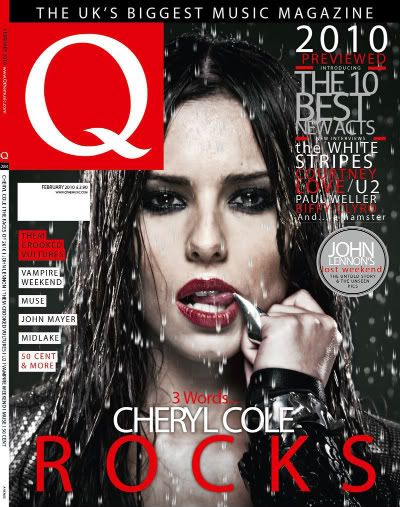 Two words can accurately describe singer Cheryl Tweedy Cole's recent photoshoot for the February issue of "Q" magazine, and those two words are "Sin City". As in the movie, not the place. Here are another two words for you, this time regarding this Ashish Gupta sequin and spike Detail racer back tank:


And those two words are "This Shirt!" As in I want it. I want it bad. In fact, it's pretty much giving me the fever. And you know there's only one thing that can cool me down. Oh yeah, you know what I'm talking about. It's SnowMerryKate time:


Sorry, I just had to squeeze her in there FTW. Anyway, back to Cheryl and her shoot. Q's Editor-in-Chief, Paul Rees insisted that they were intent on showing the world a different side of the X Factor judge. "We wanted to capture a different Cheryl Cole. Given her background and how she's pulled herself up from it, there was evidently steel beneath the glamour. Hence, we wanted our photo shoot with her to reflect that - to portray her as sexy but also as strong and in control."
Um, yeah. All I heard is "blah blah blah Hot Chick in leather blah blah blah This Ain't Catcher in the Rye, blah blah blah Don't Sue Us Frank Miller". Don't try to get all philisophical on us, Paul. It's not rocket science. It's just a little fashion.