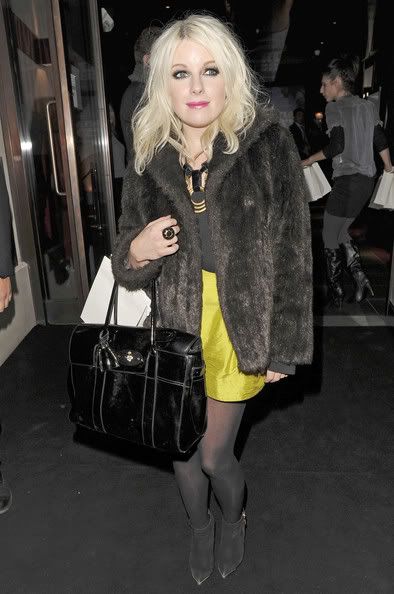 Have you guys ever listened to Little Boots? If not, here's a quick crash course on the Blackpool baby:
1.) She's from England, chap
2.) Her electropop sounds can both sooth and get your butt on the dancefloor
3.) She's got brilliant style and prefers eclectic, outrageous clothes that set her apart from the crowd.
So now that you know a little bit more about Little Boots, may we discuss the outfit she wore to Alicia Key's album party at Aqua Club last night? It surely does take
someone with a lot of personality to wear sunshine yellow shorts-especially ones that are highwaisted-but if you ask me, LB is pulling this trend off. I also know that it is very un-PC to say, but I adore how fur coats are coming back in style. I think the short waisted ones are so flattering, so seasonally appropriate and add a quick, easy dash of class to almost any ensemble.
Anyway here's more of Little Boots in her sassy little outfit. I've also included her video for "Stuck on Repeat" which really requires a listen. It's such a beautiful song and really represents her as an artist quite well.