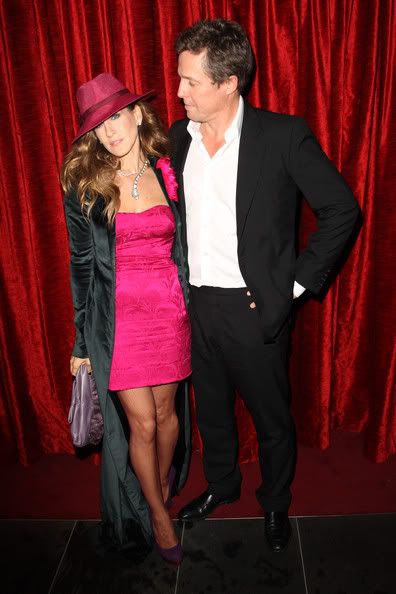 Sarah Jessica Parker: what a friggen doll. Not only does the SATC star have amazing style, but she has the cojones to boldly go where other fashionistas have never gone before. Some might say her ensembles are over the top or excessive, but I say those somebodies are idiots that don't know what they're talking about. SJP is a flawless creature who never bores me, and for that alone she gets a big gold star.
I'm also handing out another big gold star for the actress' pink on black L'Wren Scott dress she wore last night in London to the "Did You Hear About the Morgans" afterparty. Just by itself the pop of pink is cute enough, but when paired with the trench and the fedora makes SJP look like she's about to seduce a pipe smoking detective from the early 1950's while using phrases like "Hey big boy" and "I ain't your kind of dame". In other words, I love it and I am jealous.
ALSO! I know that you guys are busy, but if you get a free moment please check out the interview that your very own Mrs. M did with Fashion Zest. And while you're over there be sure to leave some comments and love. Thanks you sweet peaches! You are the best!