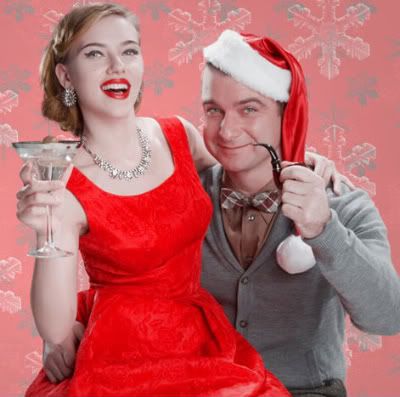 Ok first of all how much are we loving these cheeky photos of Scarlett Johansson and Liev Schreiber? Not only is my favorite girl giving out majah Betty Draper vibes, but those monogrammed stockings in the background (pictured below) are giving me the giggles AND the warm and toasties.
Now you might be wondering to yourself "Self, why are ScarJo and Liev making like a married couple and handing out holiday greetings? Are their marriages in shambles?" Thankfully no. The duo is simply staring in this series of cheeky, late 50's-inspired shots to promote their run on Broadway in Arthur Miller's stage adaptation of "A View from the Bridge". The show, which kicks off on December 28th, marks the first time Scarlett has flexed her acting muscles in a live Broadway performance, but based on how amazing she's been during her stints on SNL I'd say the gorgeous girl has nothing to worry about.
Also, how cool is it that ScarJo is always tossing things up and searching for new creative avenues to explore? Not only has she stared in action, comedy, drama, romance, period peices, ect., but she released that album of Tom Waits covers, has jammed with The Jesus and Mary chain, is currently promoting her new album with Pete Yorn and now is going to Broadway? I know I've said it before, but I freaking love this girl. Bitch is so fierce.