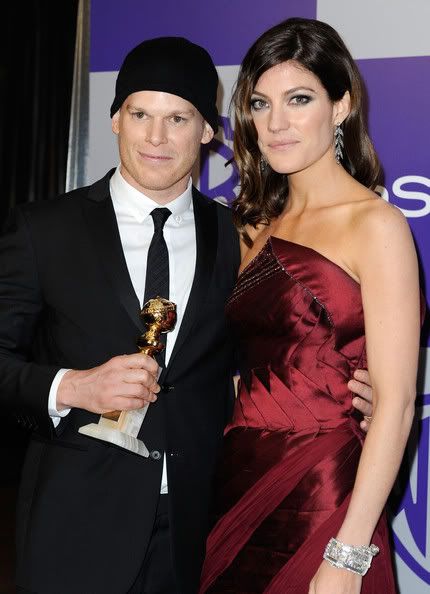 If you think a little thing called "Cancer" is going to get in the way of Michael C. Hall living his life, think again. The "Dexter" star, who just days ago admitted that he had been diagnosed with cancer, was a surprise show at last night's Golden Globe Awards where he picked up an award for being the baddest motha on the block Hottest hottie in a series Best Actor in a TV Drama series. As you may recall, Micheal was diagnosed last year with Hodgkin's lymphoma. Although he intended on keeping his battle a secret, the actor decided to make his illness public out of necessity. "It's a personal matter and to be completely frank, I had every intention of keeping it quiet" he told USA Today. "Because the award shows were imminent, I figured I would make a statement. It was also nice to make a statement at the point in my treatment that I did, where I was able to assure people that I am really on the road to recovery. I'm doing fine."
As for wifey Jennifer Carpenter (who plays his sis on "Dexter"), she is rejoicing in her hubby's recovery, telling Access Hollywood that he was "Very lucky [he] caught it early – it's 98 percent curable, so it's basically choosing the treatment and sticking with it." She also assures fans that MCH is back and almost better than ever. "After two rounds of treatment, he was in complete remission. He's just finishing up to make sure it stays that way," Jennifer said. "He wanted to let everybody know and he's been receiving so much support and good thoughts. That's been the kick that he needed to just finish it up." She also added the the illness brought the two of them even closer together, remarking, "It's always felt like an opportunity to get closer and I'm just so impressed with him and anyone who's had to go through it," she said, becoming visibly emotional. "Every second's special with him, it sounds corny but it's true. I'm very lucky."
Well, I think I speak for everyone when I say I am thrilled to hear that Micheal is making a full recovery. Dexter is one of my favorite shows and I do believe MCH is one of the best actors out there. The world of entertainment just would not be the same without him! Speaking of which, do you know what releases tomorrow? I'll give you one hint: It stars MCH! Give up? It's "Gamer"!!!


I've been looking foward to seeing that movie since I first read the premise, so I'm beyond jazzed that Netflix is sending it my way tomorrow.
Anyway here's to Michael and his awesome recovery. What would we do without him?!?