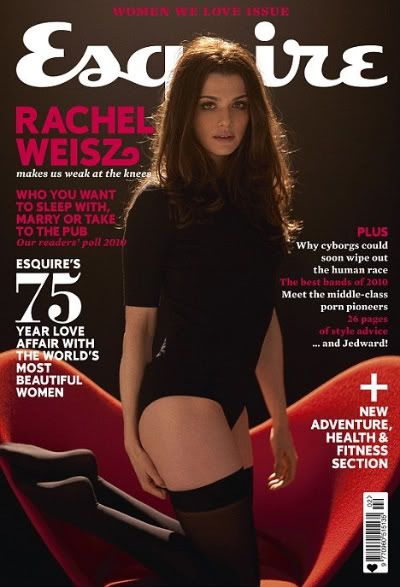 If there is one woman I can't get enough of...well...that woman would be Scarlett Johansson. But if there were like, 10 women I can't get enough of, Rachel Weisz would certainly make the list. The beautiful Brit, who currently has a 8 movies in the works including her latest "The Lovely Bones", recently did a smoking spread for Esquire's annual "Women We Love" issue proving that 39 has never looked so good.
And speaking of looking so good, men across the world have always seem to gravitate towards the actress thanks to her charm, beauty and class, but did you know that Rachel was recently named the number one fantasy wife by the readers of U.K.'s Esquire? The actress beat out fellow Brits Keira Knightley, who was second in the poll, and Kate Winslet, who came third. Upon hearing the news, Rachel admited she was stunned asking 'Oh my God! Really? That's so funny. I'm marriable. But I'm not married! I was getting worried that the men didn't like me any more, but your readers' poll puts my mind at rest."
Worried that men didn't like her anymore?!? Girlfriend, please. Rachel is such a hot class act that I would hit that up. Anyway here's more of La Weisz looking like a trillion bucks in Esquire.