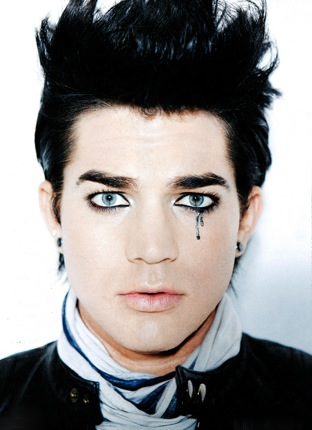 Oh yeah, that's right. When it comes to Slacker Chich of the Week I always like to choose a lady (including transgendered chicas) who represent the type of laid back style and swagger that defines the phrase "slacker chic". However, each year I do leave one slot open for one exceptional guy, and already I am giving this year's special slot away to the one, the only, Adam Lambert.
Now I don't know how you guys feel about the dude, but I love him. Admittedly I did not watch his season of American Idol, therefore I really had no preconceived notions about the man as an artist. However one listen to his freshman c.d. "For Your Entertainment" and I was hooked! Within a week of purchasing it I had listened to the standout songs "Strut", "Fever" and "Sure Fire Winners" (my personal fave) over 50 times each. Honestly I can't remember the last time I have fallen in love with someone's music quite so quickly, but thanks to Adam's incredible vocals (which are reminiscent of the late 80's hair band frontmen) and the hypnotic beats of the tracks I could hardly help myself. Babydoll is incredibly talented, and I really look forward to what he's going to cook up for us in the future.
Another reason that I love Adam is because he is so unappologetic for who he is. The fact that he is just being himself is such a great influence to both younger and older fans alike. Additionally (and I might be wrong here, please correct me if I am) but to my knowledge he's the first American artist to sing songs about dude on dude lovin' just as you might hear a woman typically singing about loving a man. In my opinion he isn't being shocking. Quite the contrary. It's not shocking or in your face, it's just the reality of love and life. And I think it's important for everyone to see gay and lesbian relationships in the exact same manner as straight ones. They fuss, they fight, they break up, they make up, and most likely someone is bitching for their partner to take out the trash and pick their socks up off the floor.
On the other hand, while I admire Adam for bringing the naturalness of gay relationships to middle America, I also applaud his openess about his sexuality. He recognizes that it's fluid and ever changing. Just because he's a gay man doesn't mean there's not a chance that he'd never want to tongue kiss a chick. Nothing is ever black and white-especially when it comes to sex and attraction. And it takes some serious self awareness to know that.
So congrats to Adam! Your hot ass is not only one hell of a musician, but an inspiration to me and many others. May you live long, may you prosper, and may you make "Sure Fire Winners" the next single.
He was born with glitter on his face, his baby clothes made of leather and lace...