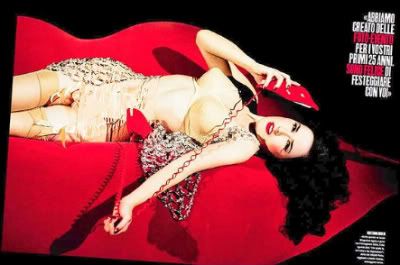 Dayum. Just...dayum. When it comes to bodacious bodies, Dita Von Teese is always at the front of the pack. Whether she's looking lovely in lace and leather lingerie or kicking it one of her vintage, housewife inspired dresses one thing's for sure: Dita always looks incredible. Naturally the burlesque baby looks equally amazing in the latest issue of Italy's Max magazine. For the March issue shot by Ellen Von Unwerth, Dita is spilling her secrets on everything from how she stays in shape to how women can emulate her style on a strict budget. Here are a few excerpts!
On her naughty must haves: "Great fitting lingerie. I always buy sexy bras of good quality that fit me well and give a good shape, and I always buy the string and the bikini that match. I am also obsessed with the perfect vintage fully-fashioned back-seamed stockings, so much so that I have my own brand which are made precisely as they were in the 1940s."
On how she keeps her famous figure: "I mostly do pilates on a reformer, but I also do yoga and take ballet classes. For me, variety is the key to a successful workout regime. When I get bored, I don't want to go." (Mrs. M note: For those of you wondering, that's skinny bitch for "I don't eat.")
On whether she has fashion "off" days: "Kidding aside, yes, of course I have days "off", and I do like to be physically comfortable. I don't know why everyone thinks jeans are so easy and comfy... I can get dressed more quickly and comfortably- not to mention chicly - in a pretty 50's era cotton day dress with a single zip up the back! With jeans you have to squeeze into them, button, zip, etc then you have to find a shirt to wear with it, and finally some silly socks and trainers! I grab one of my vintage dresses, one quick zip up the back, and I slip on a pair of ballet flats or easy heels, and voila, I look nice and I got dressed quickly and easily and I'm off! I hate that "I don't want anyone to think I care but look at me in my carefully-planned disheveled look" thing! I don't actually spend hours getting ready on a day-to-day basis, and I'm certainly not about spending a fortune on or making the effort with something as unappealing to me as jeans. I look silly in jeans."
On her current style icon: "My modern influences are designers like John Galliano and Jean Paul Gaultier, and I reference things from books I have and old films I see. I definitely see other celebrities who look lovely, but my inspirations go beyond "lovely" and into eccentric, over-the-top territory!"
On what every girl should have in their closet: "The perfect black dress that shows a bit of cleavage, but not too much of anything else. There should be one focal point. If you find the perfect dress, you can wear it over and over in different ways, with a great statement brooch, or a pair of shoes and handbag in a vibrant color, with gloves or a hat. I have a few of these perfect black dresses that I wear over and over, but no one notices it's the same dress because I wear it with different accessories."
On her advice for girls of the alternative style variety: "The most important thing to remember is that there can be no real definition of beauty... that old saying that beauty is "in the eye of the beholder" is the truth. Being true to yourself and using what you've got it the best way, I'm really just a girl who is enhancing what she's got, and that's it! I think there is something to be said for the women of the world that achieved glamour rather than being born a natural beauty, look at women like Marene Dietrich, Rita Hayworth etc all these women that once looked very average but managed to undergo a reinvention to become the icons we still remember today.
On how you can get the Dita look for less: "It's actually fairly easy because the fact is, my look is derived from not having money to buy expensive clothes. That is the reason I began collecting vintage clothes! I could see parallels between my favorite designers and vintage styles, so I would shop for vintage. Nowadays I see so many modern made clothes of all price points, I think it's become quite easy to look chic on a budget. My number one rule these days is to buy timeless, good quality pieces that I can wear year after year rather than trying to buy lots and lots of clothes. I would suggest to save up for the day you see that perfect dress that you might have considered to be too expensive. I find that it's actually more economical than snatching up piles of clothes. Whenever I do that, I end up with a bunch of things I never wear."