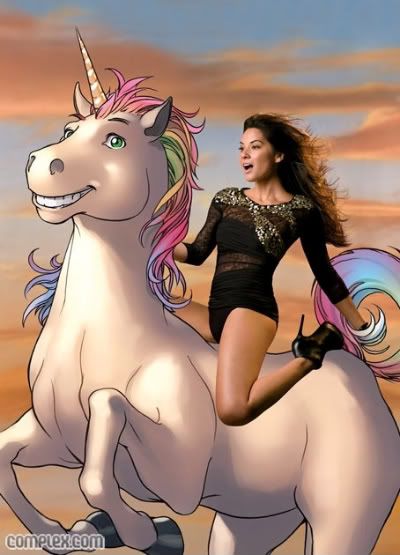 When it comes to Hollywood hotties, Olivia Munn is one chick whose star is steadily on the rise. Thanks to her run on G4's "Attack of the Show", this gorgeous gal has been a popular piece among Trekkies and nerds, but lately her status has gone from indie girl next door to full fledged femme fetale. Not only has she been working on a book entitled "Suck it Wonder Woman" (slated for a July 2010 release), but she recently shot scenes for the upcoming Iron Man 2 flick as well as the new Tina Fey comedy "Date Night". In her spare time (a wonder she has any!) the clever cutie also works as a columnist at "Complex". Therefore it should be no surprise that the mag chose Munn to cover their spring inspired April/May issue. In the feature, Olivia discusses the type of man she does and doesn't like, what she thinks of her stans and the craziest fan encounter ever. And oh yeah, did I mention that Munn gets her Snow White on with a bevy of woodland creatures for this shoot? Methinks the creative directors of Complex might have just been looking for an excuse to say "Ohmygawd! Did you see the beaver between Olivia's legs?" But I digress. Here are a few interresting excerpts from the article. I hope you enjoy!

On her views of the internet: "I now just think of the Internet as a perverted old man with candy. You go there for the candy and sometimes come out with anal bleeding. It's just like, [wagging finger] Ohhhh, that Internet!"
On if she hangs out with her fan club, Olivia Munn Fan Group aka "OMFG": "No, because my rider clearly states I only travel in a Popemobile and eat white M&Ms. I did an OMFG meet-up at a convention once and it got a little crazy. My stylist sprained her ankle and they were trampling her; I had to turn around and be like, "Stop! I promise to meet all of you. Please don't hurt anyone." I had to walk them out of the convention center to get space."
On her craziest fan encounter: "I was doing a video diary showing how I can blind-text on my BlackBerry. I was using a PA's phone, and her name happened to be Olivia too. Fans taped it and were like, zoom in, zoom out, two seconds, stop, stop, stop, stop, frame, frame, and zooooooom. They got the return address off the screen and saw the other Olivia's contact, and she got an influx of emails."
On what kind of guy she dates: "I like tall and athletic, but not like he's at the gym all the time. Boyish but still looks like a man...I used to only date guys who were 6 feet and taller. That was my thing, height. But it's changed. Now I want a good guy who's talented at whatever he does and we laugh a lot.
On who she wouldn't date: "No emo shit. And no metrosexuals. But I'm not always dating. I go from relationship to NOTHING. And then maybe a relationship."