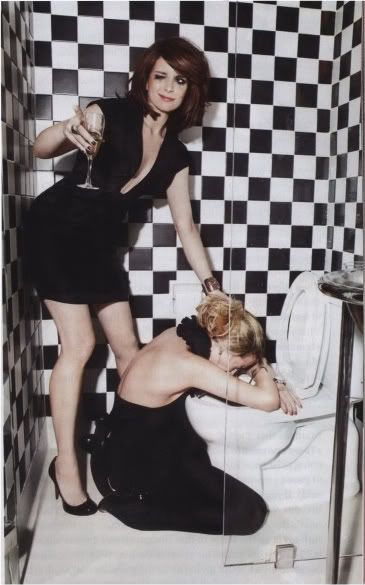 Now this is the kind of men's mag cover I like to see! For their April issue, Esquire has chosen none other than Tina Fey to grace the cover of their spring publication. In a series of sexy but spoofy shots, the comedian pokes fun at the party crashing, table hopping image that Hollywood harlots have become known for. She also chats with the mag about her childhood dreams, advice to female comedians, and exactly how she got that Palin impression down pat. Here are a few excerpts. To read the interview in it's entirety, be sure to click the small pics for a larger format!:
On her childhood dream: "To be a ballerina somewhere in Russia. I still think that can happen. To be Dorothy Hammill and be in the ice capades. Could totally still happen. To be on SNL. That did happen. Miraculously."
On how she nailed the Palin: "What goes into a Sarah Palin impression? For me it was a wig. And gluing down my ears. "When I wear that half-up hairdo, my ears stick out. Also overdrawing my lips to make it look like I have bigger lips. Then there's the Minnesota Fargo kind of accent. Ya know? And the o's and the that. And smiling when you talk."
Advice to married men: Keep on your wedding ring and shut your mouth.
On plastic surgery: "I got my boobs moved farther apart. I plan to have my nose elongated so that I can look more like a kitchen witch from the 70's. Or maybe I'll do it old school like the Dynasty ladies who put tape under their wigs and It'll just hurt like a bastard."
Advice to aspiring female comedians: "There are a couple of things I want to impart on the ladies that want to be in comedy. One, you don't have to be wierd or quirky to get your job done. And two, comedy skill is not sexually transmittable. You do not have to sleep with a comedian to learn what you're doing."