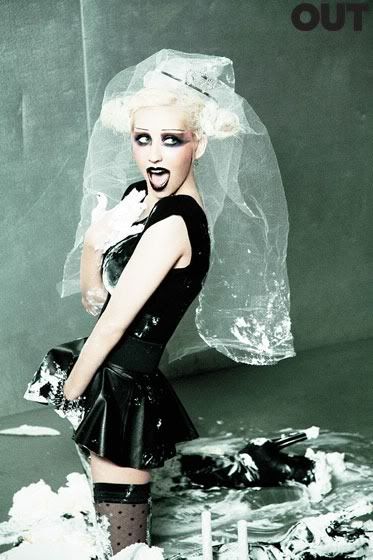 Ah Christina Aguilera. I can barely mention her these days without hearing some sort of comparison to Lady GaGa. Sure the bombshells both may be blonde, but I starkly believe the likeness ends there. And although she has spoken slightly ill about the singer in the past, Christina is now insisting that the feud is nothing more than Hollywood hype. In her recent interview with Out magazine (photos pictured above), The Dirty One opened her trapper keeper calling GaGa a "newcomer" among other things. Insisting that her comments were misconstrued, Christina released a statement to her website claiming that she ain't got nothing but love for GaGa. Here's what the tiny crooner had to say:
"Dear Fans,
I would like to take a moment to clarify something that has been brought to my attention this morning. It is very easy for comments to be taken out of context and create unnecessary drama-especially between us women. So I would like to tell you all directly so my words can not be misconstrued to sell someone else's story…I have absolutely nothing against Lady Gaga or any other female artist in this business. I think she is great, and I appreciate any woman fearless enough to go against the norm. She has earned her success with hard work and a clear focus and I have nothing but respect for that.
There is room for all of us on everyone's iPods.

This is not the first time I have been unfairly pitted against another female artist but it will be the last time I comment on the matter.

"Can't hold us down…."

With love,
C/X

Although I admit to doubting her sincerity, it's always nice to see women stick up for one another. Too often we are pitted against each other, often for little to no reason at all. Just like Christina said, there's room on my IPod for everybody with talent. Besides, this is the first time in a long time we've had such a wide range of women running the music scene. Beyonce, Christina, GaGa, Rihanna-hell, even Miley Cyrus. I'm proud of all those chicks for blazing the trails and climbing their stylish ways to the top!
But enough fist pounding and bra burning. Let's check out these new photos from Xtina's spread in Out including some never before seen outtakes. Bonus fun fact-the spread was shot mby my favorite photographer of all time, Ellen Von Unwerth, another incredible lady with an unbelievable vision!